Meet Our Team!
Our team of dog lovers are dedicated to helping your pup become their best self.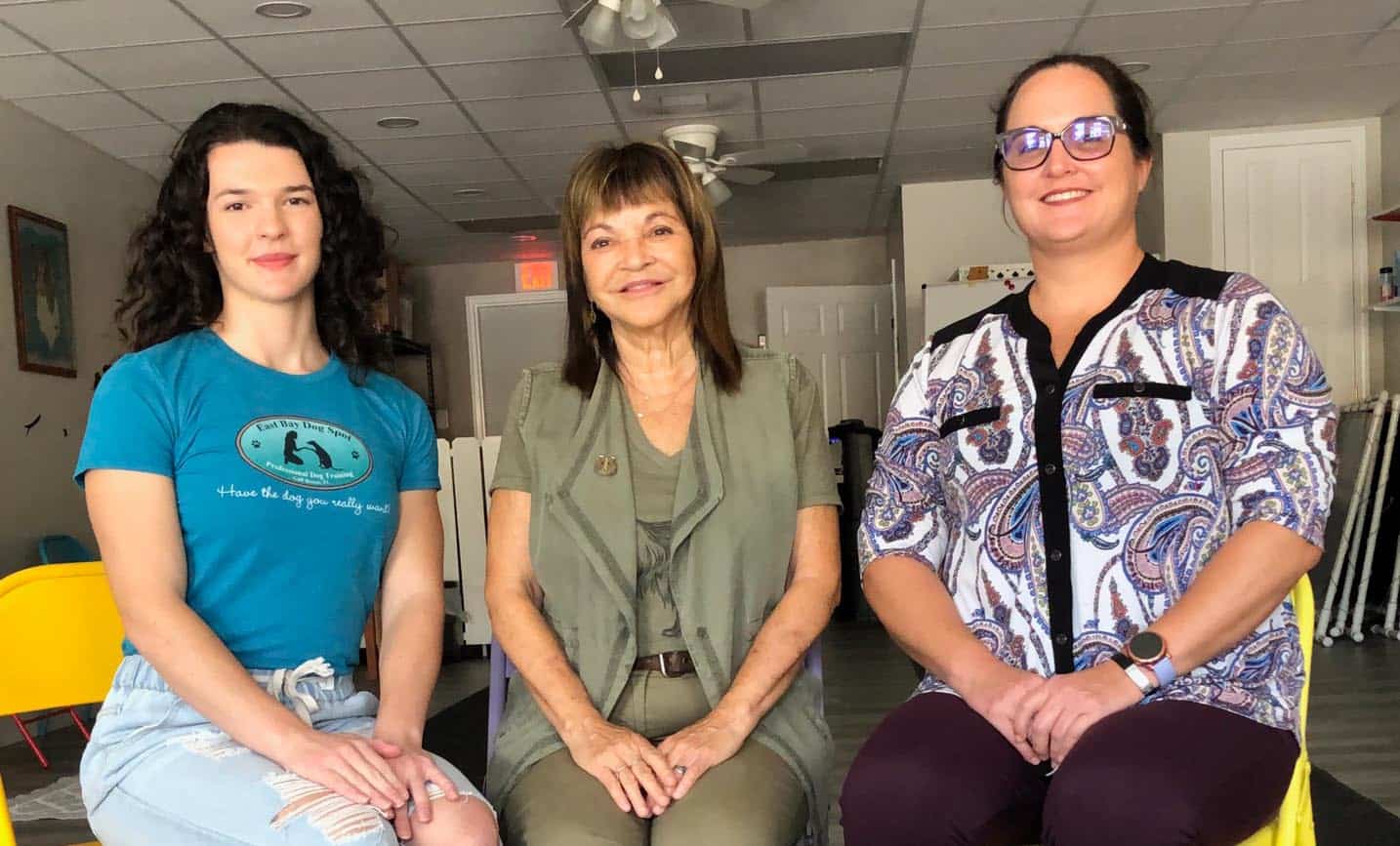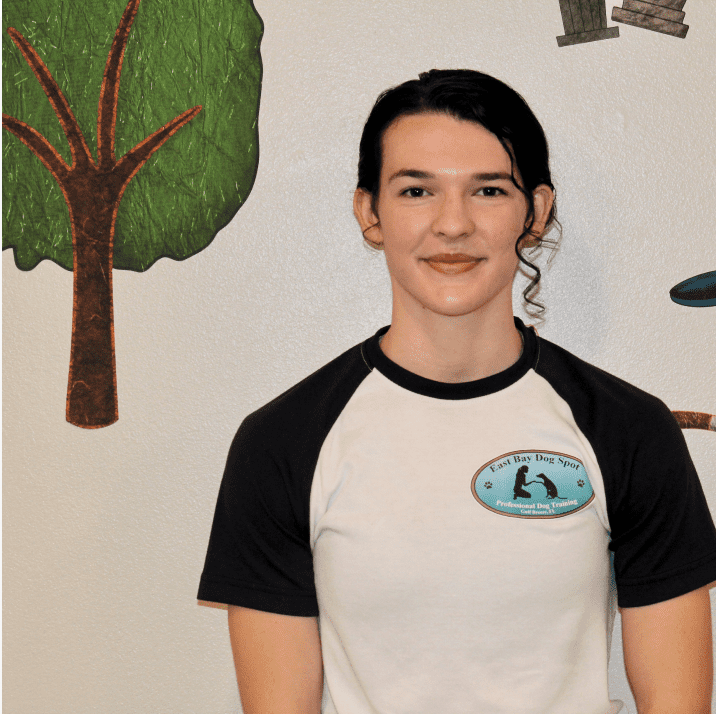 Makayla Thompson
Owner | Instructor
Kip Kirby
Founder | Instructor
Christie Mendoza
Instructor
Makayla Thompson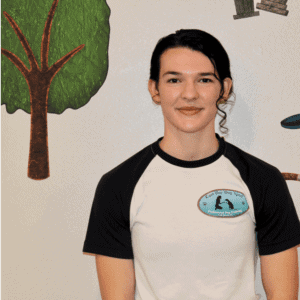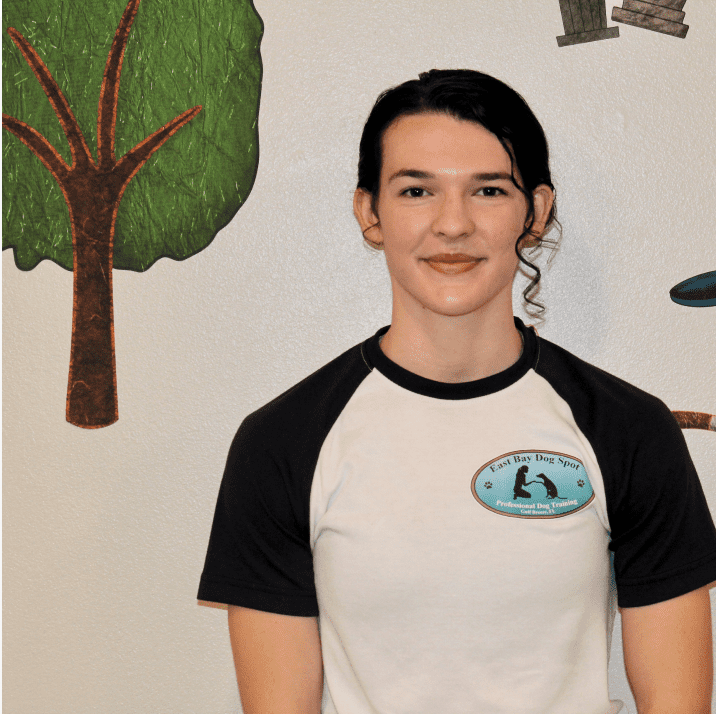 Owner | Instructor
When Makayla took over as owner of East Bay Dog Spot in January 2022, it was a lifetime dream come true. Makayla grew up in a military family where her parents trained German Shepherds to be guide dogs for the blind. There were dogs around her throughout her life, which helped Makayla develop a keen sixth sense about how to read and bring out the best in them. Today, as a full-time professional trainer, Makayla uses her talents to help people accomplish things with their dogs that they never thought possible. Using proven positive training techniques, Makayla has transformed difficult problems into solvable solutions for hundreds of clients, as well as teaching owners how forge a deeper bond of love and trust with their dogs.
Prior to becoming a professional dog trainer, Makayla served as Canine Companion Coordinator for the large dog area at The Dog Stop in Gulf Breeze, where she worked with an extensive variety of breeds and temperaments in very close quarters. When she joined East Bay Dog Spot, Makayla advanced quickly, mastering the clicker and learning how to address not only multi-level obedience training needs but also more complex behavioral issues such as resource guarding and reactivity. When Makayla was named East Bay Dog Spot's manager and given a permanent position as staff instructor halfway through her first year, she knew she had found her home.
Since taking over East Bay Dog Spot, Makayla has expanded the facility's curriculum with an impressive array of group classes, workshops, and private sessions, including puppy and foundational training, intermediate and advanced skills, tricks, Reactive Rover, and Therapy Dog classes. Makayla is a certified professional dog trainer through her CCPDT-KA, an AKC-certified Canine Good Citizen (CGC) evaluator, and a member of the Association of Professional Dog Trainers. She was also voted as one of Sniffspot's top trainers in Florida. Additionally, Makayla dedicates her time to helping animals in need as the President and a founding member of the Friends of Santa Rosa County Animal Shelter, a non-profit dedicated to providing community safety nets for pets and raising funds for the facility to improve the welfare of animals in their care.
Makayla is an eight-year Air Force veteran who has lived in four foreign countries, five different states, and one U.S. territory. She loves fitness and competes in powerlifting events for fun. When Makayla's not training dogs, you're likely to find her exploring new adventures fearlessly, whether it's traveling, skydiving, surfing, scuba diving, hot air balloons, or canine biathlons with her rescue dog Cash. Makayla recently completed her Bachelor's in Business Administration with summa cum laude and is pursuing a second Bachelor's in Marketing. But nothing gives her more personal joy and satisfaction than her life as a dog trainer. "There's nothing more rewarding than watching dogs transform through training and seeing the joy it brings their owners," Makayla says. "I love helping people accomplish things they never imagined they could and building a better world all around for them and their dogs."
Kip Kirby
Founder | Instructor
Ask Kip what she enjoys most about being a dog trainer, and she'll tell you, "I love working with dogs – and seeing people achieve the dog they've always dreamed of!" Since starting her dog training career in 1996 in Nashville, TN, Kip has taught thousands of dogs using positive motivational training techniques. She is professionally certified in the fields of dog obedience and agility and competed nationally in agility for over 15 years.
After a successful career in the country music industry (Kip served as Nashville Bureau Chief for Billboard Magazine, was a celebrity on-air reporter for the nationally recognized Crook and Chase TV show and managed a talent department of a home shopping network), Kip began applying her skills to the world of dog training. In 2010, she accepted a position as a lead trainer in Nashville for PetSmart where she stayed until starting her own full-time training business.
In 2016, Kip moved to Gulf Breeze and set up shop on East Bay Boulevard. Business quickly outgrew the space and she moved into a larger space where she could run group classes and private training sessions. In 2022, she sold East Bay Dog Spot to her dedicated manager and instructor, Makayla, so she could have the freedom to travel and compete in agility, while still training at her leisure. Today, East Bay Dog Spot draws clients and students not only from Navarre and Gulf Breeze but also Pensacola, Milton, and Fort Walton Beach.
Kip has written for national dog training magazines such as Dog Fancy, Clean Run and Animal Fair, produced a distance-handling dog agility DVD called Dial Up the Distance, and was honored with a Gold Medal in 2005 from the prestigious Dog Writers Association of America (DWAA) for her feature article, "Agility Dogs on the Road." Currently she owns two Shelties, Palafox and Navarre.
Christie Mendoza
Instructor
Christie, East Bay Dog Spot's newest instructor, has always loved training and caring for dogs.  Pet sitting, pet walking, pet training – she's done it all, and she brings an impressive list of instructor credentials to our staff. Christie is a certified AKC Evaluator and has taught a variety of classes, including AKC Puppy Star, Pet Manners, Canine Good Citizen (CGC), Rally and Agility Foundation.  She is a member of the Association of Professional Dog Trainers (APDT) and is CPDT-KA certified. Christie is also one of Sniffspot's top trainers in Florida.
Christie's special passion is helping fear-reactive puppies and dogs. She knows firsthand how upsetting a reactive dog can be: she owns a mini-Schnauzer that has struggled with fear-based issues since puppyhood. "Fenway has taught me that training takes time and it isn't a linear experience," she says, "but when you build that handler/dog bond through positive reinforcement, it's a very rewarding experience."
Before relocating to the Pensacola area in 2021, Christie was an instructor for a popular training facility in Naples Florida where she worked with dogs of all ages and breeds. She currently lives with three mini-Schnauzers and a Goldendoodle and competes in agility and rally with two of her dogs (the other two rescues prefer just "being lazy on the couch"). Staying active physically is important to Christie. She's done numerous half-marathons and 6 full marathons, loves crossfit, and when she's not working or training dogs, she loves being at the beach and paddleboarding.