Valentine's Cookies For Dogs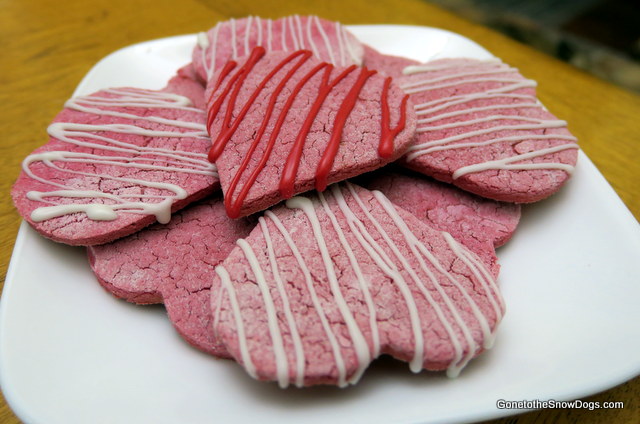 February is known as "the Love Month" for a very good reason. Who doesn't love the idea of hearts and flowers and a few special treats now and then! Well, our pups are no different. They love us with all their hearts 365 days a year, so why not show them some extra love this month? Here we will learn how to make a batch of special home-baked doggie cookies
INGREDIENTS:
2-1/2 cups of Rice Flour
1 egg
1 cup pureed cooked or canned beets
1/2 cup pureed sweet potato (fresh or canned)
1/2 cup water
DIRECTIONS:
Preheat oven to 350 degrees
Mix all 5 ingredients together to form a dough. (If the dough is sticky, add more flour; if it's wet, add a bit more water.) Once the dough no longer sticks to your hands, it's about right!
Lightly flour your surface and roll out the dough with a rolling pin to 1/4" thickness.
Cut dough into whatever shapes you like. We used heart-shaped cookie cutters for Valentine's Day!
Place on a cookie sheet and bake for 40 minutes.
Cool completely on a wire rack. Cookies should have a bit of a crunch to them when they are cooled.
You can use them as is or decorate them with a bit of yogurt/low-fat cream cheese frosting. Your dogs are going to LOVE you for making these!